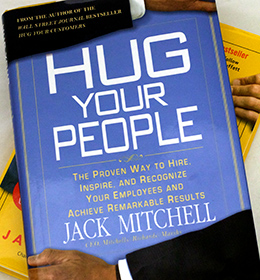 Hug Your People: The Proven Way to Hire, Inspire, and Recognize Your Employees and Achieve Remarkable Results.
"Hugging" is Jack's metaphor for bringing humanity back into the workplace, not necessarily through touch but by getting to know, pay attention to and being curious about those we do business with by taking the time to learn what matters to them. Hug Your People is a compelling blend of anecdotes from the author's daily business life and practical guide for building the kind of great relationships that Jack says are at the heart of every transaction.
"Motivating the workforce and employee retention are huge global challenges no matter what business you're in" writes Jack.  "Business leaders are eager for a detailed yet easy to follow blueprint that shows them how to assemble a happy and effective workforce that doesn't desert them the minute the business across the street offers $10 more a week and an extra vacation day".  As he says, "An engaged, enthusiastic workforce who work well together engages repeat customers."
Jack's principles are based on fifty successful years of daily use in real-life leadership. When used throughout an organization, they help attract and keep talent, lower marketing costs, maintain high gross margins, build long-term revenue and attract new business. More than that, it makes for a great workplace where people look forward to being everyday.
Hug Your People is available in hardcover from your local bookstore, or from one of the following online booksellers.
Original version is available in the following languages

Spanish
Estonian
Japanese
Simplified Chinese
Portuguese
Polish

Published in 2008 by Hyperion