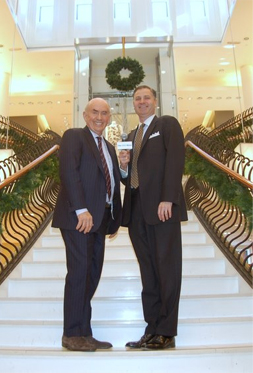 "I loved interviewing Jack Mitchell and seeing the many practical suggestions he offers for shifting your internal culture."
- Lisa Haneberg
Jack Mitchell on Getting Your Money's Worth with Judith West
Play Now
Jack Mitchell and family own the most successful independent retail stores in the country. How? He fosters a culture of niceness with his customers and his employees. His books, Hug Your Customersand Hug Your People, blueprint his family's success. He's on Getting Your Money's Worth with Judith West.
Wayne Turmel interviews Jack Mitchell
Play Now
Wayne Turmel talks to legendary retailer Jack Mitchell about his new book, Hug Your People. How do you keep employees engaged and wanting to come to work? How do you manage through tough times? Also we look at a Cherokee woman with a cool job title.
Experienceology Interview
Play Now
Stephanie Weaver interviews Jack Mitchell, author of Hug Your Customers, for the Experienceology podcast.
From the Experienceology website at
http://experienceology.blogspot.com/2008/08/creating-customer-service-cultures.html

Fireside with Lisa Haneberg
Play Now
Jim Blasingame interviews Jack Mitchell on The Small Business Advocate Show
Jim Blasingame interviews Jack Mitchell on The Small Business Advocate Show 2008
Play Now
What's more important, your internal customers (employees) or your external customers? Jack Mitchell talks with Jim Blasingame and provides the answer: both. Jack talks about the proper care and feeding of both of our customer groups.
Imprint Hug Your People interview
Play Now
Jack's first book Hug Your Customers, showed just how powerful it is to make a human connection to your customers. Now he explains how to create a culture in your company that will attract and inspire those you work with to love to come to work in the morning. Do you say you trust your employees but hire secret shoppers to check up on them? Do you say you value their input but use a suggestion box? This book gives the blueprint and also the real muscle behind it all – appreciation.
Jim Blasingame interview 2007
Play Now
The man who taught us how to "hug" our customers, Jack Mitchell is now ready to teach us how to "hug" our people. He and Jim Blasingame talk about the keys to success with employees.
The CEO Show with Robert Reiss
The art of hugging for three generations in high-end retail clothing and accessories
Imprint Hug Your Customers interview
Play Now
Are customers the center of your world? Of course we say they are, but are they treated that way? Jack wants you to treat them like kings and queens. Impress them by remembering their nicknames, favorite sports team and anniversary. Have their favorite beverage on hand when they stop by. Create a culture that appreciates and personally interacts with your customers. It not only creates a place that's fun to work, but it creates loyal customers that come back time and again.
I don't know a business owner who wouldn't say the customer is the most important part of their business, so I asked Jack how he would know if an owner or CEO really believes that or is just kidding themselves. See if you pass the test.