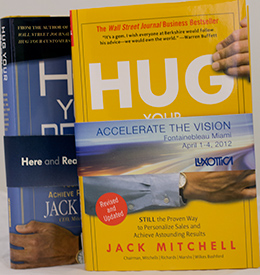 We are pleased to offer a variety of opportunities for you to purchase personalized and even customized Hug Your Customers and Hug Your Peoplebooks for your organization.
Bulk orders
If you are interested in sharing Jack's books with your associates, customers, partners, etc., we are happy to offer a special discounted rate for bulk orders.
Personalization
Jack would be more than thrilled to personally sign each book that you purchase - with a real ink pen and at no additional charge!
Customization
Many of our clients have chosen to customize their books by including a one page letter with your company logo, written and signed by you addressing the group of people that you will be distributing the books to. This is a great option for books that will be distributed to attendees at your national sales meetings, corporate training events, etc.
For more information please contact:
Jackie Skorvanek
203-912-7212
jackies@mitchellstores.com